Monday Knight Break Point
If there's anything you can count on at Sword and Shield Gaming it's 3 things;
Great teammates
Great times
Monday Knight Halo
With most of our Knights wrapped up in Minecrack Crackcraft Minecraft we had a smaller than usual group for MKH this week. This by no means hindered our experience. Actually, it gave the perfect opportunity to get to know an old friend of a few of the Knights and Overlords; PrivateRyan. Or as they say in l33t speak; PRIV4T3 RY4N. Ry4n is now a hopeful Apprentice, and after playing through with him and our fellows, I can see why. Onto the highlights!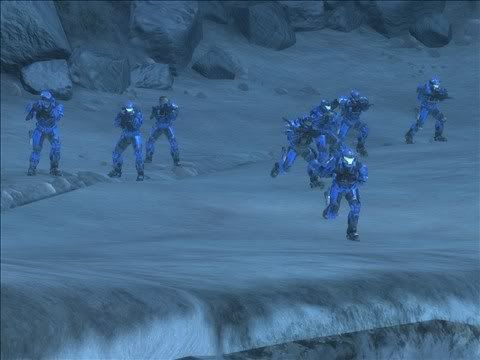 Most of the night had us at Break Point as our chosen arena was the Noble Map Pack. For many of us this collection was still grounds yet to be charted. No better way to do this than with good teammates by your side, right?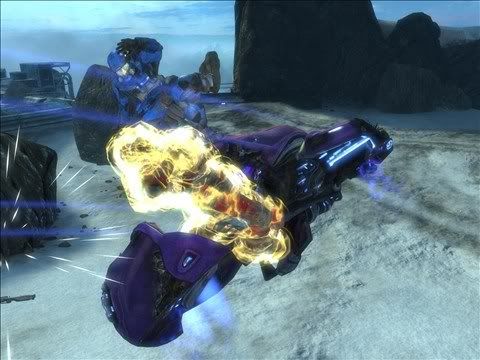 Nothing says "Get out of that Ghost" than a kick to the face. PRIV4T3RY4N had a pretty sweet hijack.
This first match of the night was a nail biter. The randoms of the other team were matching us shot-for-shot. A brief Stand-still with the score at 99 – 99 everyone agreed on the most important tactic; "Don't Die." Some headed for cover, some grouped together. Skirmishes broke out, gunfire was heard then suddenly, "GAME OVER". The match had ended and we had…won?! What an awesome win! But how? Wachamacalzmit was the Knight that had the lucky shot;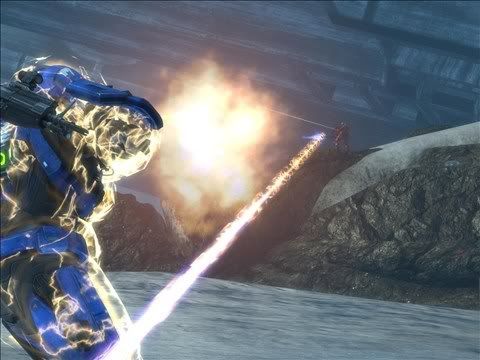 His sick no-scope won us that match. Whew! Great shot, Wacha!
The night rolled on with friendly mixers and custom games alike. I even got to try a round of Splatter Flag with my fellow Knights. Don't know what Splatter Flag is? Well here's some footage from the SSG Olympics.
Each game was different from there. For the most part, the Knights were engaged in friendly-competitive mixers, as the time rolled on, many of us had to opt out for more responsible endeavors like work or sleep, but we still had out fun;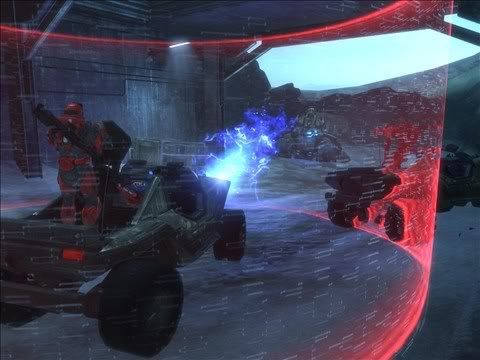 Red Team dominates the hill even in the face of a wraith.
Blue team secured the win with the help of some coordinated team work, and luck.
IrishTulip gets an excellent… 'view' of GhostRider in a game of Sniper fight.
We had this random taking shots at us for trying to cap this flag in this close CTF game. Dragoon was running faithfully until he was dropped by this guy, I was there to escort this precious cargo to the base. Ghost dished the punishment for this betrayer. We all had our mics on and this fellow didn't say anything to explain his actions. It's good to have team mates that communicate, isn't it?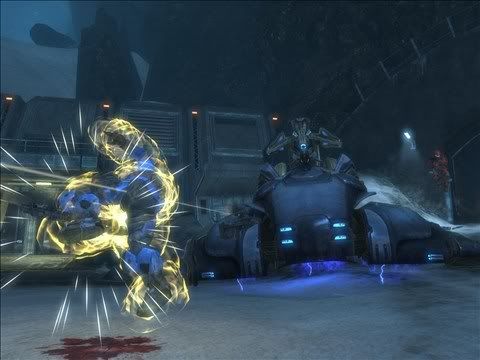 Ry4N was nearly jacked from his Wraith in another CTF game. This sweet support provided by CrystalFTW  put a quick end to that. (so much Break Point!)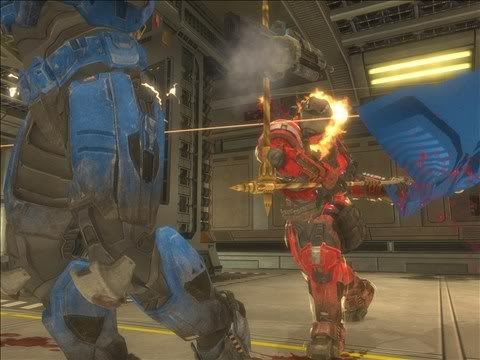 Ghost stops Blue team from stealing our flag by beating them down with their own flag and quickly getting us the score. Nicely done, Ghost!
I had to duck out soon after this, but no doubt the party kept going without me, and hopefully fields other than Break Point which we became more intimately familiar with.
It had been a while since I was able to attend Monday Knight Halo properly, and I'm glad I was able to this week. Playing Halo alone means nothing in the face of playing with your friends, or against them as sometimes the case may be. Either way, being a lone wolf doesn't carry the same weight or sense of accomplishment as running with a pack does.
Already I'm looking forward to next Monday for some great times. Monday Knight Halo is open to all as long as you let us know you'd like to join us for that and any other events being hosted. Easily done by a simple stop in Camelot, our message board, and putting your name in our weekly Pre Game Lobby.
>So what are you waiting for?<