Fighting with Fairfax: OutREACH Tournament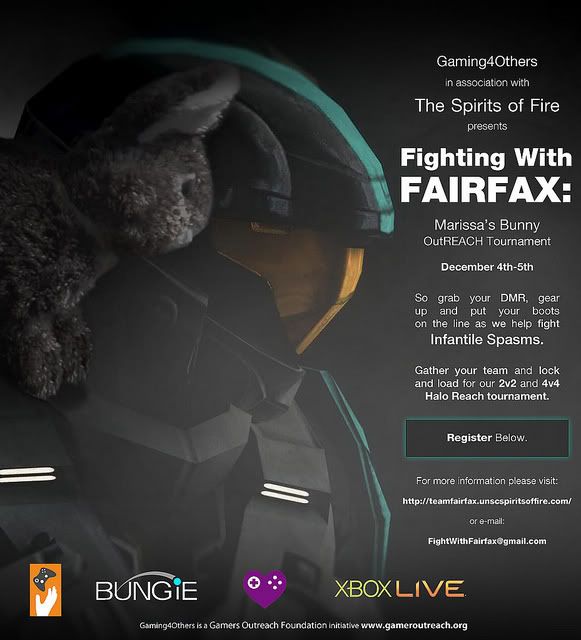 Friends over at The UNSC Spirits of Fire have decided to gun for Marissa's Bunny in a tournament designed to help raise money to fight Infantile Spasms.
From the FLAG tournament and Bungie's own Haiti Heart fund, we know there is hardly a better way to raise money for important causes than blowing up your friends. There is an adorable bunny to boot.
All the information you need can be found >>In their Specially Designed Forums<< but for the 'get to the point' gamers, here are the quick details;
Tournament Starts: Sat, Dec. 4th @ 3pm EST and is set to run through Sun, Dec. 5th

* The cost is $10 per person- $20 for 2v2 team, $40 for 4v4 team

PRIZES:

First Place:
Alan Wake game for Xbox 360
Halo REACH Nov 30th DLC "Noble Map Pack"
Halo Mega Bloks large set
2nd Place:
REACH Tee
Halo Mega Bloks small set
3rd Place:
McFarlane Halo Mini helmets pack
Gamer Grub snack packs"
The How To's and finer points of registering for the tournament can be found on their >>Super Forums<<  but I'd say that's a generous offering.
Grab a team or two or three and give to a great cause and perhaps snag some great swag in the process. Indeed I'd say that's a win/win situation. If you find yourself unable to fight, then at least spread the word.
SSG will be doing our best to fight for the cause and share the news.
See you on the field.